I
n July, the Federal Reserve lowered the federal funds rate by 25 basis points, to a range of 2% to 2.25%. This is the first time the Fed has lowered interest rates since 2008, in the midst of the global financial crisis. Federal Reserve Chairman Jerome Powell has signaled the possibility of another rate cut as soon as next month. In fact, President Trump is seeking a cut of as much as 1%.
Typically, such a rate cut is a preventive measure designed to keep the economy on track. Lower rates put more money into the economy, encouraging businesses to invest and consumers to spend and borrow. While lower interest rates do help, they don't help everyone. Here's who stands to benefit the most — and who could suffer a hit:
Home Buyers: Mortgage rates were already trending lower, so the Fed's move is good news if you're in the market for a mortgage or refi. You'll also see a little relief if you have an adjustable-rate home equity loan or line of credit.
Credit Cardholders: If you're carrying a balance (nearly half of all cardholders do), you may see a slightly lower APR, depending on your credit card issuer. A lower APR could help, considering the average U.S. household pays more than $1,150 in interest each year.
Savers: Expect interest rates on savings accounts, money market accounts and CDs to decline. This might be a good time to rate-shop savings accounts and lock in a rate with a CD.
Investors: Lower interest rates generally boost the stock market. However, investors tend to get nervous if the Fed cuts rates repeatedly, because it may indicate a recession is looming.
(Sources: NPR, Bankrate.com, CNBC)
Did You Know?
The U.S. Mint's online store offers a variety of unique products, including:
Uncut sheets of paper currency in $1, $2, $10, $20, $50 and $100 denominations.
An engraved print of the Gettysburg Address that includes a portrait of President Abraham Lincoln.
$1 coins for the new American Innovation Coin Program.
Gold Congressional Medals honoring the Native American Code Talkers from WWI and WWII.
2019 coin sets commemorating a birth, a birthday or other special occasion.
Visit the website to order online.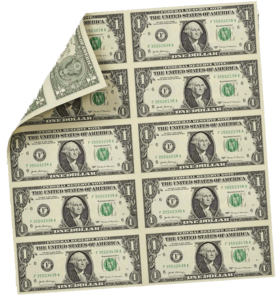 The information provided here by Premier CPA Services PC is for general information only. It does not constitute legal, accounting, tax or other professional advice or services, and is presented without any representation or warranty as to the accuracy or completeness of the information. Please contact us for information as it relates to your circumstances.